Mobile Disco in Cambridgeshire
Ely Disco Inferno


Local disco for hire. Based in Littleport, Ely looking for that perfect party atmosphere? Then look no further! Whether you are planning a memorable milestone in your life, may be a birthday, wedding, anniversary or family/works party. Give me call to check the availability to book your magical moment. No venue too big or too small, from village halls to leisure centres.
Full Details & Contact Information
Imagine Disco


With over 20 years experience in recorded music, Imagine really is the disco for all occasions. From a special birthday party or wedding anniversary, to wedding receptions and school proms, we've got the experience and the the music to make your event work.
Full Details & Contact Information
Lightning Disco


We are an experienced mobile disco that can help you with all your party requirements from supplies and PA hire to complete wedding planning services. We are a small family business who aim to deliver a personal and professional service with a high regard for customer satisfaction and a firm believer in word of mouth advertising.
Full Details & Contact Information
Groove on the Moove Karaoke Disco


Mobile Disco and Karaoke in the Cambridgeshire area.
Full Details & Contact Information
Equinoxe DVD Disco


Discotheque using music DVD's with a vast selection. Multiple video screens including the superb new 55 inch LED flat screen from Samsung. Stunning light and laser show using industry standard Martin Lighting. Top of the range high quality audio equipment. Slideshows readily accommodated for all events such as birthdays and weddings.
Full Details & Contact Information
Cambridge Sound Professional mobile disco


Cambridge Sound - Professional mobile disco entertainment with a difference. It's all about choices yours, not ours! You need to be sure that you are booking the right disco entertainment for your important event, and with so many discos out there, just how sure can you be? We can't speak for our competitors, but we can speak for ourselves. Cambridge Sound are not just another Disco playing loud music (about the DJ). Right from the very sta
Full Details & Contact Information
Wedding Party Events


Wedding Party Events have over 28 years experience in the entertainment industry and provide a professional wedding disco service throughout the East Anglia region. An online client area and the facility to request songs in advance enables us to ensure that your favourite music is played. Venue Mood Lighting, Confetti Cannons, Bubble Machines and Band Lighting can also be added to your booking if required. A large selection of Dance Floors can al
Full Details & Contact Information
Hookey Street Entertainment


Celebrate the occasion with Hookey Street Entertainment of Stilton. If you are tired of going to parties and the DJ plays nothing but rave all night long then I am the DJ for you. A lot of disco firms play house music that just caters for the modern generation. This one caters for almost all. I also offer a karaoke service with a regularly updated song selection. I am in regular demand. I have done gigs in York, Cambridge, Peterborough & Newmarke
Full Details & Contact Information
Cambridge Djs


Offering four packages from basic to celebrity requirements nothing is left to chance with your party, we accommodate everything associated with disco's including extra's such as smoke, bubbles, glow sticks, CD prizes, strobe lights, lasers. Speak to your Dj in advance, receive a play list to which you can add, it's your party so why can't you be directly involved.
Full Details & Contact Information
Blacktiedj Wedding Discotheques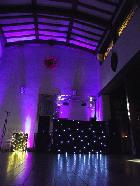 A Professional DJ and Mobile Disco since 1996. Alan Garner offers a quality mobile disco for Weddings, Corporate Events and Private Parties around Cambridgeshire, The East Midlands and East Anglia. Quality Mobile Disco Entertainment including professional sound and lighting equipment, starcloth frontage and giant glitterball. Additional Services are also available including Uplighting, room decoration, Karaoke and Theme Nights.
Full Details & Contact Information
Shell Music Mobile Disco and Music Quizzes


Funky female DJ, professional, reliable and fun with a real passion for music and dancing (I may even join you on the floor!). Available for all events that put music/dancing at the heart of the celebrations. I can also provide my own unique music quizzes. So why not book the quiz and disco together (discount applies) and make a real night of it?!
Full Details & Contact Information
Suits U Disco


Need a disco or karaoke for your party or event that is Professional and Reliable. Then Suits U Disco is your answer With themes and packages to suit your requirements at a price that won't break the bank. For more info give us a call...
Full Details & Contact Information
Imagine Wedding and Party Entertainment
Professional, award winning Wedding DJ and party disco with over 30 years experience at creating the perfect party atmosphere.
Full Details & Contact Information